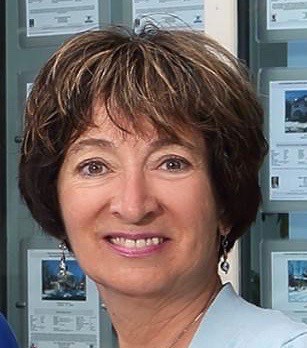 DEBRA L BENNETT
Accredited Buyers Representative REALTOR®
Debra Bennett is a Realtor® at Alison McCullough Real Estate, Inc. a firm that specializes in all aspects of Real Estate in the state of Vermont. Debra is a West Rutland, VT native and graduated from Vermont Technical College with a degree in Architectural Building Technology. She then moved to NH and worked in the Architectural/Civil Engineering field for ten years while obtaining a BS degree in Information Technology at [...]
DEBRA L BENNETT
Accredited Buyers Representative REALTOR®
Debra Bennett is a Realtor® at Alison McCullough Real Estate, Inc. a firm that specializes in all aspects of Real Estate in the state of Vermont. Debra is a West Rutland, VT native and graduated from Vermont Technical College with a degree in Architectural Building Technology. She then moved to NH and worked in the Architectural/Civil Engineering field for ten years while obtaining a BS degree in Information Technology at Southern New Hampshire University. After many years in the technology field she has decided to come back to her passion of architecture and real estate in her native home state of VT.
Deb understands what it is like to stand in her clients' shoes, relocating several times – buying and selling houses of her own – has afforded Deb a sensitivity towards her clients' journey, which can be attributed to the first-hand perspective she gained through her own personal experience. Debra understands that buying and selling real estate can be stressful so she decided to get her Accredited Buyers Representative designation to better understand and help her buyers through the process. As a full time Realtor, she will work hard to lower your stress level and make your experience as pleasurable as possible. She will accomplish this by listening to your wants and needs, getting to know you through constant communication, team collaboration, using the latest technology and being accessible whenever you need her. She is dedicated, knowledgeable, and committed to finding the perfect fit, so that you have the best experience.
When not assisting clients, Deb enjoys spending time with family, entertaining friends, traveling, relaxing with a good book and participating as a member of the Board of Directors for the Chaffee Art Center.
Office Location
29 Center Street, Suite 1
Downtown Rutland, VT 05701
Contact Info
Specifications
Languages:
Specialties:
Service Area:
Debra's Testimonials
I wanted to thank you for all the work, support and guidance you provided to Sharon during the sale of her condo. It was a great comfort to know she had someone helping her who was always looking out for her best interests. I can't image how hard it must have been for Sharon to be going through Chemo, surgery and cleaning out her condo, but I know she got through this with all the help and knindness you provided her. Once again, I want to thank you so much for all you did for Sharon [...]
Skip Bassett
Deb Bennett was always responsive and willing to find answers to our questions. She worked tirelessly to sell our house. Our home is among many in our neighborhood that she has sold. We recommend her to anyone looking to sell their home.
Robert and Kathy Scarcello
Deb's patience and dedication to me in selling my land was so appreciated. She kept me informed along the way and was very helpful with the virtual way of doing business.
Trudy Billings
Deb was super patient with us as first time home buyers. She worked with us back when we were just looking to get a sense of what the housing was like and then again when we were finally ready to buy. She was super great in every way and found us the perfect first house. I would recommend her to anyone.
Nick Martin and Stephanie Barry
Debra worked very hard for us in purchasing a home--there were extra difficult hurdles in the process; all of which Debra pursued and solved. We feel that she was a major participant in the success of the venture.
Mary Ladd
Working with Debra made my first home buying experience amazing! She was very patient with me looking at multiple homes before I choose "the one". She was always available to answer my questions (which was a lot). She was on time for every showing and for the closing. I highly recommend Debra and her company, they were simply fantastic!!
Josh
Debra provided excellent service and support throughout our first home buying experience. She was knowledgeable and always available to answer questions and give advice based on our specific needs. I am beyond grateful for her tireless determination and would highly recommend Debra to anyone looking for a Buyers Agent in the area.
Katherine
Deb helped us buy our new house, and to sell our condo. She worked diligently to help us find exactly what we wanted and could afford. She was professional, friendly and always available when we had questions. It was a pleasure working with her and I would highly recommend her.
Bruce Douglas
I honestly cannot say enough good things about Debra Bennett! I recently moved from NC back to VT and Deb "talked me off the ledge so many times", I was selling and buying at the same time and Deb was there for me through it all. It didn't take her long to know what I wanted and her guidance kept me from wasting precious time. Deb went above and beyond for me, she made phone calls on my behalf to the Bank, the Home Inspector, the Electrician, to folks I [...]
Malwina Blaine